Current news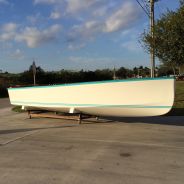 Tattoo Yachts is relocating as we have outgrown our facility. We will be out of production until we have our new location set up.
In the interim we will be completing the Tattoo 22. We pulled the first Tattoo 22 hull and deck out of the molds last week and they look even better than we had hoped.
A number of our dealers have Tattoo 26 Power Sailers available in stock, so we have set up a new page "Where can I get a Tattoo 26?"
Stay tuned for updates. Happy 2015 from all of us at Tattoo Yachts!