The faces behind the company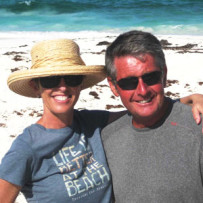 We are Paul Sharp and Laura MacGregor Sharp. Our family has been building boats under the MacGregor brand for over 50 years. Our parents, Roger and Mary Lou MacGregor, have decided to retire from production boat building. We are continuing the tradition of providing great trailerable sailboats, but with our own modern touches.
We had already started setting up to build the new Tattoo 22. This was rather a lucky decision, as the MacGregors' retirement leaves a void in the trailer sailer market. We will now offer the Tattoo 26, which is on the same lines as the current MacGregor 26, and the new Tattoo 22, which will be extremely light, and easy to tow behind smaller vehicles.
We have been building boats together for many years, from International 14 racing skiffs to 70' cruising boats. We ran the MacGregor 65 factory, where we built and sold almost a hundred MacGregor 65s. We both have extensive sailboat racing and cruising backgrounds, in catamarans and monohulls, from Lasers to Reichel Pugh 68 sleds, and everything in between.
We have been the overseas distributors for MacGregor sailboats since 1990, and have exported thousands of boats. We owned the UK dealership for almost 20 years, which was one of the highest volume MacGregor dealerships in the world.
We have long appreciated the niche market of affordable trailer sailers. We intend to keep making boating fun, safe and affordable.